Back to News
Motion's bones: Mechanisms, components suppliers talk trends in reclining furniture's 'skeletal system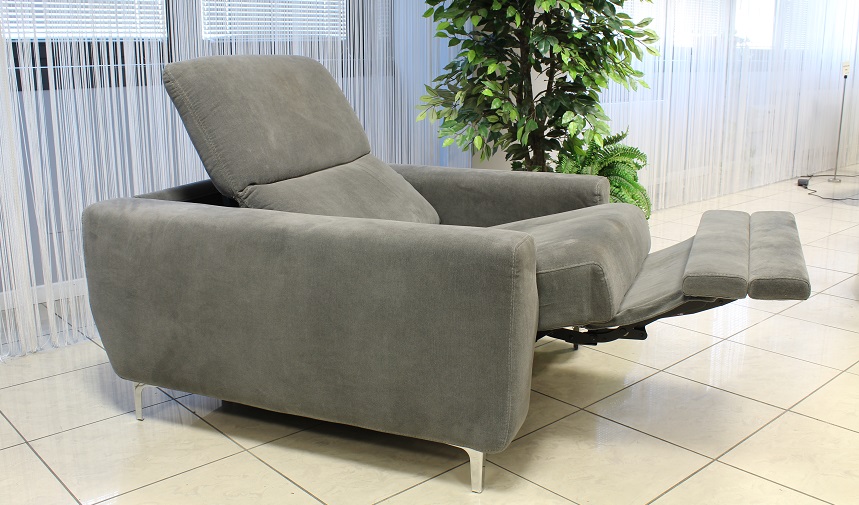 8.14.20 - High Point, N.C. 
Cocooning during the pandemic has made the motion and recliner category hotter than it already was as families gather together for entertainment and comfort at home.
Mechanisms and components are what give motion its selling attributes, and Furniture Today talked with several suppliers feeding the production of reclining goods about developments in their area of expertise. First, how are existing mechanisms and/or components evolving as they relate to motion upholstery and recliners?
At Leggett & Platt, Vice President of North American Sales for Home Furniture Components Richard Weeks noted that power function continues to evolve.
"We can now motorize any mechanism from recline to lumbar to headrest," he said. "What we're seeing is a continuing move toward higher style pieces that are off the floor."
That means mechanisms require thinner profiles in order to hide the metal.
"With wooden legs, the mechanism needs to be up off the floor vs. a metal base on the floor so you can do more styling with the arms, legs and backs," Weeks said.
Italian mechanism designer and manufacturer Ciar has power mechanisms for zero gravity, zero wall clearance, deep relax position and other functions.
"Power headrest, lumbar and roller massage were natural add-ons," said Eric Knott, Ciar's senior vice president of marketing and sales. "Now, we have taken the next steps with some of our motion mechanisms by adding a power swing glider motion."
The power-driven, silent function regulates motion or length of swing with an integrated button or via smartphone app. A movement of four to five seconds in each direction corresponds to the breathing pattern of most meditation apps that help induce specific breathing rhythm to reduce stress levels.
"With different speed patterns, you can also mobilize energy reserves or reset your body-mind balance," Knott said. "You can combine with other apps for meditation and music, and blend breathing patterns, music with the motion of the chair. The function and health benefits are now in the foreground, and the chair functions according to your needs."
Franklin Corp. is among the few furniture manufacturers that design and manufacturer their own motion and recliner mechanisms, and Vice President of Merchandising and Product Development Chuck Tidwell said comfort remains the primary focus in its development efforts.
"Making our own mechanisms is expensive, but we have ownership," he said. "We think comfort is why most people buy reclining furniture. They don't necessarily buy for beauty; they have an agenda for comfort."
Tidwell pointed to a new mechanism in its step-up Mark Thomas line that offers enhanced positioning with saddle seats riding on a base mechanism that has unrestricted seat ride and long side rails that allow use of seat springs three-inches longer than standard.
"We also made a unitized motion system with an extra deep and wide seat box that lets you sit 'in' the furniture rather than 'on' it," he said. Franklin's "Ultra Arch" spring "focuses on a 'sweet spot.' We change angle and separation within the same movement loop so it sits firmer in the front and back. We want the furniture to mold around the body, and the mechanism foundation controls this."
On the components front, Raffel Systems continues to evolve through a customer-centric product-development process, according to Mark Stecker, vice president of sales and marketing.
"Our engineering and technical sales team works closely with our customers addressing market demands with innovative concepts and new product designs to enhance or advance motion functionality," he said. "We need to know our customer's business, as well as they do in order to support them and provide the expertise to help them stay one step ahead of the competition.
"We have a voice-of-customer approach to make sure we can assist in their product development and also make it cost-effective to manufacture," he continued.
Emomo's focus is creating furniture components that provide additional values but will not affect the appearance of the furniture.
"The motion upholstery has evolved from large bulky consumer products into stylish high-leg motion recliners, for example," said Emomo Vice President Rosary Tang. "Therefore, the demand for wireless technology such as our 'Phone's Home' hidden wireless charging demand is on a rising trend."
Another example is Emomo's 'Audio Leg,' which creates surround sound via Bluetooth for incorporation in a traditional sofa silhouette. Users can stream their television's audio to the sofa via Audio Leg.
"The Audio Leg works with stationary furniture, home theater seating, and gaming chairs," Tang said. "The product allows for all types of styling and designs without installing holes for speakers."
What's next?
Furniture Today also asked about new developments for components and mechanisms on the horizon for motion upholstery and recliners, and what's driving those possibilities.
Franklin's Tidwell noted the evolution of power function — head, lumbar and leg support — gives "a lot of room for new category creation" within motion.
"Who would ever think we'd have six motors in a sofa?" he said. "The consumer today is fascinated with electronic technology in reclining furniture. … They can accomplish infinite positioning to fit their own body with the touch of a button."
Along with creating better value, the driving force innovation at Ciar is an analysis of changing expectations from consumers' side.
"For example, as a result of the Corona pandemic there is a new focus and priority from consumer side on health-related topics, there is an increased mindfulness on physical and mental well-being," Knott said. "Therefore, furniture that we use every day can be a tool to meet those needs and expectations."
Weeks said that with the trend toward better styling in motion and recliners, more Leggett & Platt customers want to incorporate motion into their best-selling stationary goods.
"In the past, you couldn't have a T-cushion on a recliner, and we're having to incorporate more wall proximity capability on chairs and sofas that aren't on metal bases," he said. "We're working on things where the leg rest is hidden under the seat so there's more travel for the extension and retraction. We've launched three different mechanisms addressing what I call the 'wood-to-floor' category for motion."
Tang at Emomo also noted COVID-19's impact on motion furniture development as more people work — and shop — from home.
"Functional furniture products such as AC power supply, wireless charging of mobile phones, tablet holders and reading lamps are necessary for creating a productive workspace. This will drive the market for newly designed mechanisms and actuators that are smaller and lighter weight for reducing cost and shipping expense, because online sales will continue to be a platform for selling motion furniture."
Raffel Systems' Stecker noted a number of new product concepts and designs that are in development or have recently been released.
"Most recently, our new line of linear actuators dramatically expands our breadth of motion control products and enables Raffel to offer a complete motion system package to our customers," he said. "Other recent developments include our latest air bladder massage system with multi-mode features and our enhanced battery pack system."
Stecker added that Raffel advances its technology through working with customers and the end-user marketplace.
"Our goal is to continually have a development pipeline of new products internally and under consideration with our customers," he said. "We want to be viewed as an extension of our customer's design and engineering teams and be their go-to supplier for new and innovative motion control electronic components."
https://www.furnituretoday.com/furniture-manufacturing/motions-bones-mechanisms-components-suppliers-talk-trends-in-reclining-furnitures-skeletal-system/